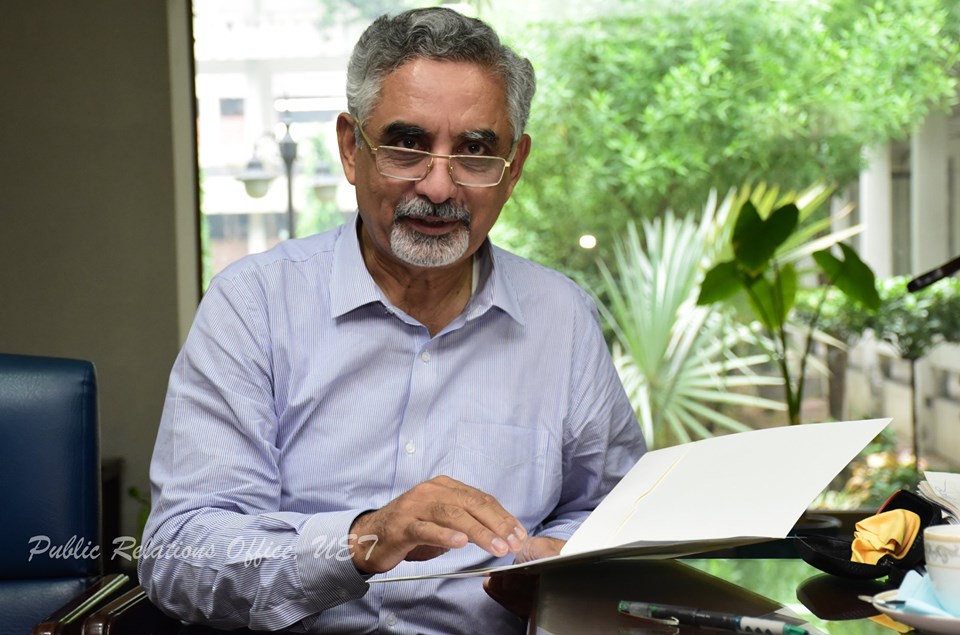 Message by the Vice-Chancellor, Prof. Dr. Syed Mansoor Sarwar
The process of learning and achievement of excellence is a legacy of our glorious past. The chronicles of history bear witness to the fact that our predecessors pioneered and made gigantic leaps in various branches of sciences. We, therefore, are custodians of a trust vested in us. The turn of events and transgression from destined path have tilted the scales against us. At this point of time, vision with unflinching faith in our cause should be the guiding principle to turn the wheel and arrest further degradation of our potentials. A big task lies ahead to revive and restore the ascendancy of our predecessors to its rightful place in today's modern world. Let us join hands to carry this noble mission to conclusive end under the banner of University of Engineering & Technology, Lahore. I have faith in our mission and with the blessing of Allah we will Inshallah reach the zenith of fulfillment and achievement."

 Prof. Dr. Syed Mansoor Sarwar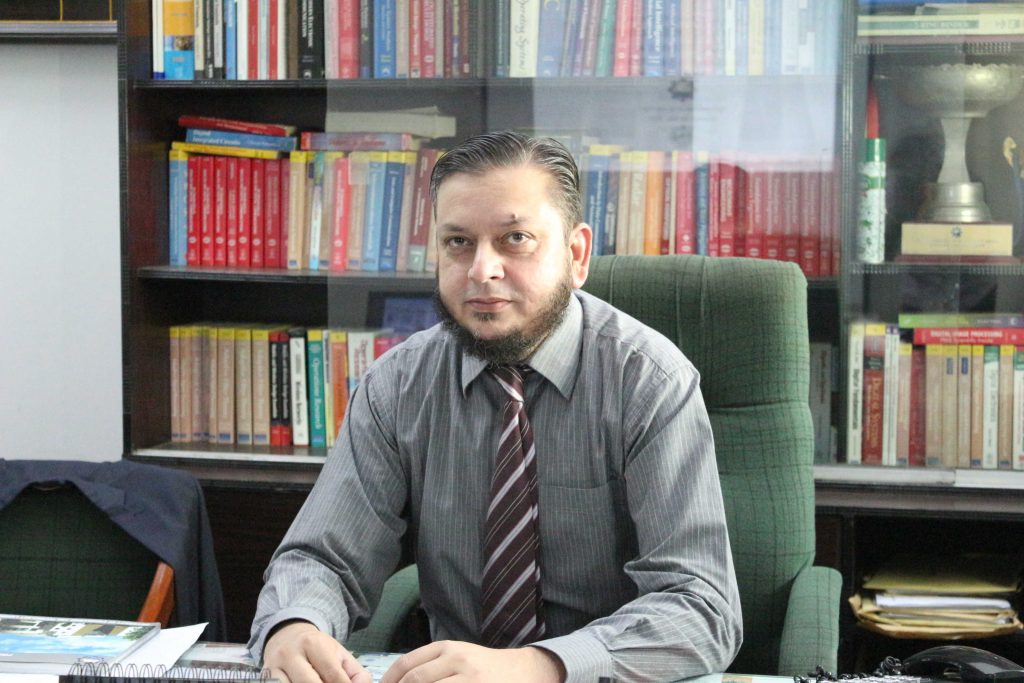 Message by the Campus Coordinator: Prof. Dr. Muhammad Kamran
Welcome to the Biomedical Engineering Department at University of Engineering and Technology, New Campus where undergraduate degree in Biomedical Engineering is offered.The department has 10 full-time faculty members with 3 PhD from various fields of Biomedical Engineering. They are specialized in Biomaterials, medical Signal and Image processing, Bioinstrumentation and Genetics.
This department conducts extracurricular activities where IEEE and other societies organize technical trainings and workshops. Such activities cause the grooming of students which ultimately take them to achieve professional excellence.
Our students solve real-life problems. Human civilization has continuously sought to find more efficient solutions, consequently engineering is a profession always in demand. Our graduates can be found throughout the world actively impacting industry, government, and academia. Our faculty are dedicated and well-recognized throughout the world, our class sizes are small, and we are part of a comprehensive and diverse university

Prof. Dr. Muhammad Kamran
---
Establishment of Campus and Department
The New Campus (formerly KSK Campus) of UET Lahore was established in 2006 with the aim of effectively interacting with the industry located in the middle of Sheikhupura, Gujranwala, and Lahore. It comprises a total area of 313 acres and the undergraduate sessions started in 2007. Biomedical Engineering Center has established in 2013 and in the same year, it offered a degree program of B.Sc. in Biomedical Engineering Technology. Owing to the success of the program and the response of the industry, the center initiated another degree program of B.Sc. in Biomedical Engineering being the first-ever department to offer such degree in Punjab.

Currently, the department is adhering to level-2 (OBE) philosophy/practice and will apply for level-2 accreditation with PEC in 2021. The department aspires to start a master's degree, M.Sc. in Biomedical Engineering in near future. We are committed to providing an excellent engineering education, which has been the hallmark of UET. Department is equipped with state-of-the-art, well-equipped laboratories and highly-qualified staff. Moreover, we are also continually striving to expand/upgrade our labs and to enhance the learning experience of our students. Till now, our alumni have 100 placement records within a few months of graduation, and a number of our graduates have moved abroad to pursue higher education. Whether you are a prospective student or an academic, we would like all of you to be our guests and visit our facility.
UET VISION
To generate knowledge for global competitive advantage and become a leading world-class research University
UET MISSION
To play a leading role as a University of Engineering and Technology in teaching, research, innovation, and commercialization that is internationally relevant and has a direct bearing on national industrial, technological and socio-economic development
Program Mission (Biomedical Engineering)
To become the leading program of Biomedical Engineering by imparting methodical educational training to our students and preparing them to become innovative and socially responsible engineers in health care research and industry
Program Educational Objectives(PEO's) Biomedical Engineering
PEO-1


Our graduates will solve problems related to Biomedical Engineering



PEO-2


Our graduates will work effectively as a team member and lead multidisciplinary teams while demonstrating interpersonal and managerial skills, and ethical responsibilities



PEO-3


Our graduates will pursue higher education, research, and professional advancement to develop sustainable solutions fulfilling societal needs
Program Learning Outcome(PLO's) Biomedical Engineering
Engineering Knowledge (WA-1):

An ability to apply knowledge of mathematics, science, engineering fundamentals, and an engineering specialization to the solution of complex engineering problems.



Problem Analysis (WA-2):

An ability to identify, formulate, research literature, and analyze complex engineering problems reaching substantiated conclusions using first principles of mathematics, natural sciences, and engineering sciences.



Design/Development of Solutions (WA-3):

An ability to design solutions for complex engineering problems and design systems, components, or processes that meet specified needs with appropriate consideration for public health and safety, cultural, societal, and environmental considerations.



Investigation (WA-4):

An ability to investigate complex engineering problems in a methodical way including literature survey, design and conduct of experiments, analysis and interpretation of experimental data, and synthesis of the information to derive valid conclusions.



Modern Tool Usage (WA-5):

An ability to create, select and apply appropriate techniques, resources, and modern engineering and IT tools, including prediction and modeling, to complex engineering activities, with an understanding of the limitations.



The Engineer and Society (WA-6):

An ability to apply to reason informed by the contextual knowledge to assess societal, health, safety, legal and cultural issues and the consequent responsibilities relevant to professional engineering practice and solution to complex engineering problems.



Environment and Sustainability (WA-7):

An ability to understand the impact of professional engineering solutions in societal and environmental contexts and demonstrate knowledge of and need for sustainable development.



Ethics (WA-8):

Apply ethical principles and commit to professional ethics and responsibilities and norms of engineering practice.



Individual and Teamwork (WA-9):

An ability to work effectively, as an individual or in a team, in multifaceted and /or multidisciplinary settings.



Communication (WA10):

An ability to communicate effectively, orally as well as in writing, on complex engineering activities with the engineering community and with society at large, such as being able to comprehend and write effective reports and design documentation, make effective presentations, and give and receive clear instructions.



Project Management (WA11):

An ability to demonstrate management skills and apply engineering principles to one's own work, as a member and/or leader in a team, to manage projects in a multidisciplinary environment.



Lifelong Learning (WA12):

An ability to recognize the importance of and pursue lifelong learning in the broader context of innovation and technological developments.